In the run up to competitions, those who have been selected to compete for the Club will receive a Team Selection Slip (as below) which containing all details.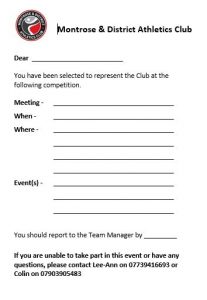 All selected members will be expected to attend the competition unless they/their parents haven spoken to one of the coaches in advance.
All athletes old enough to compete should attend a minimum of 4 League Competitions.
NEW FOR 2017 –   5 Points will be awarded every time a member competes at a league meeting (up to a maximum of 20 points) – these points will be added to their score for the Club Championships.
On the day of any competition, it is important that you do not skip breakfast.  Your body needs fuel just like any engine.
You should take a packed lunch with you and at least 1 litre of a non-fizzy drink.
It is important to drink enough fluid during the day as your performance may be affected if you do not.
Sufficient clothing should be taken with you to prepare for all weather types, and a change of clothing for changing into once the competition is over.
Please remember to listen to any instructions you are given on the day.
If you are unable to attend a competition, please inform your Team Manager as early as possible.